Residential Cleaning Services
First Service

Cleaning for Small Spaces
A&A Cleaning Services offers a program designed to service residents of apartments and condominiums. Small Spaces offers special and customized pricing to groups of residents in the same complex who register for weekly or bi-weekly service. In addition, customers who start service through this program will receive a discount applied to their "first-time-in" service fee.

*Deposit are due for all services at the time of booking

Holiday Cleaning
When the holidays approach, will your home be ready for guests? Amid all the joy and celebration, holiday cleaning can put a serious damper on the festivities.
Don't Let Holiday Cleaning Ruin the Fun
Who wants to scrub floors and toilets when there are parties to plan? Unfortunately, a clean home is a requirement for entertaining. You can't have guests come over to a filthy house -or even one that isn't cleaned top-to-bottom, if you want to keep the mood festive.
We can simplify your holiday cleaning at a great value. Get ready for the best holiday season yet, when you welcome family and friends to your pristine home full of holiday cheer.
How to Get Holiday Cleaning Done Right
Were is already a trusted name in home cleaning services. Now, during the holiday season, let us make sure your home is holiday-perfect, so guests ooh and aah from the moment they hit your foyer until the last glass of eggnog is passed around. Here are some the finishing touches our holiday cleaning service can bring to your home:
· Dusting, scrubbing, and polishing of entryways and foyers that result in grand holiday entrances.
· Clear, streak-free windows, which are great for showing off indoor and outdoor decorations, as well as seeing guests as they arrive.
· Impeccably clean stairs that allow guests to notice your holiday décor - garlands and other ornaments - and make slips and falls less likely.
· Immaculate kitchens with pristine appliances, faucets, and fixtures, where guests can gather around perfectly clean serving areas.
· Welcoming, clean bathrooms that you are open for guest to use.
Entertaining involves a lot of cleaning, especially if you have a larger home. Our friendly, professional housekeepers can help guarantee your party is the one everyone talks about season after season.
Get a Great Value on Holiday Cleaning
It's never too soon to start planning a holiday-perfect home. While you could buy the cleaning supplies yourself or toil over fixtures and floors during the weeks leading up to your favorite holidays, it's so much easier to let us do it.
We give you back your time and peace of mind, so that you can focus on friends and family, like you should this time of year. Get a free estimate today.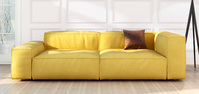 Bedroom Services
The bedroom is the one room in the home where you go to retreat and relax. It should be a clean and inviting space that helps you unwind after a long day and get a good night's sleep, so you wake up feeling refreshed and ready to take on the day ahead.
Our cleaning service understand that a cluttered bedroom can diminish your ability to relax and enjoy the space. Dust can build up on nightstands, and carpets and curtains eventually require cleaning as well. As a result, regular bedroom cleaning is a must.
If regularly cleaning your bedroom just doesn't fit into your busy life, let us help. Our bedroom cleaning service transforms your space into a fresh, clean room ready for relaxation and a good night's sleep. A thorough cleaning can go a long way in making your bedroom the tranquil space you deserve. A&A Cleaning Service LLC. bedroom cleaning service includes the following tasks:
Dust end tables, television stands, bookshelves, and other pieces of furniture, as well as any decorative accessories displayed on these tables. Dust baseboards and ceiling fans as well.
Wipe down corners to remove any cobwebs from corners.
Vacuum carpets and wash all hardwood, laminate, or tile floors. Dry wood floors. Vacuum furniture and under cushions.
Empty and clean ashtrays and wastebaskets.
Change bed linens.
Giving Your Bedroom New Life
Our Cleaning Service picks up where your everyday cleaning leaves off. Perhaps you have no trouble making your bed and picking up clothes every day. However, you might not have time for deeper cleaning tasks in the bedroom, including dusting, floor cleaning, and furniture cleaning. Don't try to fit these deep-cleaning tasks into your already busy schedule. Instead, have us take over bedroom cleaning for you. We can create a customized cleaning plan designed exclusively for your home, allowing you to find a cleaning schedule that suit you and your family's needs.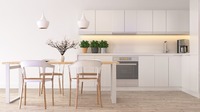 If you're hosting a family meal or even getting ready to whip up a batch of your famous brownies for a school fundraiser, you need to make sure every inch of your kitchen - including the oven - is clean and ready for action. The last thing you want is the charred remains of Thanksgiving's past ruining the flavors of the dishes you'll be preparing.
While exterior cleaning of your stove is included in A&A Cleaning Services LLC routine, oven cleaning is not. However, that doesn't mean we're not happy to take on this chore for you. After all, you probably have a lot of things you'd rather be doing than cleaning your oven.
Were happy to add this for this additional service, we clean every inch of your oven, inside and out. Our professional housekeepers will remove your oven racks and clean them individually. They'll also make sure that the interior of your oven is completely cleaned and rinsed, from the oven walls to the inside of the door. How long has it been since you were able to see through that oven window? We can make it clear again. Finally, we'll finish the job by washing the external door and making sure the oven glass is streak free.
If you have a self-cleaning model, we do recommend that you run the self-cleaning cycle, the night before our housekeeping professionals come to complete your oven cleaning. We'll make sure any ash or residue is wiped away during our visit.
Whether you're preparing to host a special meal or it has just been a while since your oven has been cleaned, our experienced housekeepers can lend a hand. Contact your local A&A Cleaning Services today, and let us take care of oven cleaning for you.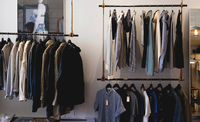 Cabinet Cleaning & Organizing Services
Organization is key to a clean and efficient kitchen, and one of the areas that many people struggle with is their kitchen cabinets. Taking the time to clean cabinets and instill some order within can make your life a lot easier. But when will you ever find the time for such an undertaking?
That's where our professionals come in. Though interior cabinet cleaning and organization is not offered in our routine housekeeping services, we're happy to provide this additional service upon request. We're most often asked to clean and organize cabinets during move-ins or move-outs, but you might find this service comes in handy during spring cleaning or after a kitchen renovation.
Our professional housekeepers will start by removing the contents of your cabinets. Then, the inside of the cabinets will be wiped clean. Afterwards, we replace the items that were taken from your kitchen cabinets.
Please note that if you want your items organized differently from how we found them, we do ask that you're present to guide our organization and to confirm that you approve of where we place things. After all, we pride ourselves on making sure you're happy with our work. That's why we have a worry-free guarantee.
Once the insides of the cabinets have been arranged in orderly fashion, we finish the job by washing your cabinets' exteriors. Then we let you enjoy your clean and streamlined kitchen.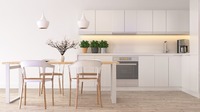 Refridgerator
Cleaning Services
It can be difficult enough to keep up with tidying bedrooms, doing laundry and cleaning the kitchen on a regular basis, which means some areas of your home might get less attention than they need. One of these hotspots is the inside of your refrigerator.
Over time, it's inevitable that liquids spill inside the fridge, and somehow bits of vegetables or herbs manage to sneak their way into corners and cracks. As the refrigerator is where you store the food you're going to eat, it needs to be cleaned out so that unwelcome mold or bacteria don't start growing inside. Additionally, if you have houseguests coming to visit, the last thing you want is for them to open the fridge for a soda and see dried bits of kale and sticky orange juice spills.
Though refrigerator cleaning isn't included in A&A Cleaning Service's routine housekeeping offerings, we can definitely take care of this task for you.
To help us perform this additional cleaning service to the best of our abilities, we do ask that you purge the inside of your fridge of any expired items before we arrive. Our professional housekeepers will then remove each and every item from your refrigerator shelves. Next, the shelves will be taken out so they can be washed, rinsed and dried. The same thing goes for your refrigerator drawers. We're thorough.
After wiping down the inside of your fridge to remove any last traces of spills, crumbs and food particles, we replace everything: drawers, shelves and all the items we removed at the start of our cleaning.